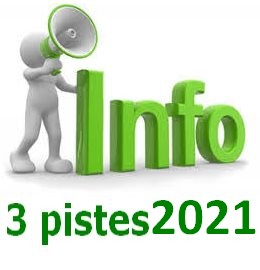 ON AURA ESSAYE!
Mais n'attendons plus pour vous informer de l'annulation de l'épreuve prévue les 22/23/24 mai 2021.
Aucun des repères pouvant nous donner l'espoir d'un retour à une activité même à minima pour la mi-mai ne se dégage à l'horizon.
De plus, les couches de contraintes issues des multiples strates administratives s'accumulant à qui mieux mieux, nous ne nous sentons plus en mesure de nous lancer dans l'organisation de vos 3 Pistes 2021.
Désolés de vous avoir donné un espoir de pouvoir concrétiser vos heures d'entraînement, nous ne pouvons que vous encourager à persister jusqu'à l'année prochaine.
¡Lo vamos a intentar!
Pero no esperes más para informarte de la
anulación de la prueba prevista el 22/23/24 de mayo de 2021.
No se vislumbra en el horizonte ninguno de los puntos de referencia que nos pueden dar la esperanza de volver a una actividad incluso a un mínimo para mediados de mayo.
Además, al acumularse capas de tensiones de múltiples estratos administrativos, no nos sentimos más capaces de participar en la organización de sus 3 Pistas 2021.
Lamentamos haberles dado la esperanza de que sus horas de entrenamiento se hagan realidad, y sólo podemos animarles a que continúen hasta el próximo año.
We'll have tried it!
But do not wait any longer to inform you of
the cancellation of the event scheduled on 22/23/24 May 2021.
None of the benchmarks that can give us hope of a return to activity even at the minimum by mid-May is emerging on the horizon.
Moreover, the layers of constraints resulting from the multiple administrative strata are accumulating to what better, we no longer feel able to launch us in the organization of your 3 Tracks 2021.
Sorry to have given you hope to make your training hours a reality, we can only encourage you to continue until next year.
 UNE TENTATIVE LE WEEK-END DE PENTECÔTE…..
En accord avec la commission course de la fédération, nous avons arrêté les 3 jours du week-end de la Pentecôte (22/23/24 mai 2021) pour une possible édition des 3 pistes 2021.
A cet instant, de nombreuses inconnues subsistent sur ce que sera, dans 3 mois, de la situation sanitaire et ses répercutions sur les possibilités et moyens d'une organisation à minima : modalités d' accueil de compétiteurs étrangers, restauration, hébergement, couvre-feu, vaccination, etc..
Pour toutes celles et ceux qui poursuivent leur entraînement dans l'espoir de retrouver les pistes il fallait fixer une date, c'est fait ! notez la précieusement.
Pour le reste, patientez, nous vous tiendrons informés …..
THE 3 TRACKS 2021 ONE ATTEMPT..
In agreement with the race committee of the federation, we have stopped the 3 days of the weekend of Pentecost (22/23/24 May 2021) for a possible edition of the 3 tracks 2021.
At this moment, many unknowns remain on what the health situation will be in 3 months and its repercussions on the possibilities and means of an organization at least: modalities of reception of foreign competitors, catering, accommodation, curfew, vaccination, etc..
For all those who continue their training in the hope of finding the tracks they had to set a date, it's done! note the preciously.
For the rest, wait, we will keep you informed …..
LAS 3 PISTAS 2021 UN INTENTO…
De acuerdo con la comisión de la carrera de la federación, hemos parado los 3 días del fin de semana de Pentecostés (22/23/24 de mayo de 2021) para una posible edición de las 3 pistas 2021.
En este momento, muchas incógnitas subsisten sobre lo que será, dentro de 3 meses, de la situación sanitaria y sus repercusiones sobre las posibilidades y medios de una organización de mínimos: modalidades de acogida de competidores extranjeros, restauración, alojamiento, toque de queda, vacunación, etc.
Para todos aquellos que continúan su entrenamiento con la esperanza de encontrar las pistas era necesario fijar una fecha, ¡eso es todo! Fíjense bien en ella.
Por lo demás, esperen, les mantendremos informados ….
ÉDITION 2021 : ON REPORTE….
L'arc en ciel du bandeau illustration de notre page Facebook n'aura pas suffit à conjurer le sort !
Les circonstances, nous contraignent pour la deuxième année consécutive à reporter l'édition des 3 pistes prévue en avril 2021.
Avec la présence régulière de 15 nations, aux contraintes organisationnelles et financières habituelles, se cumulent les contraintes sanitaires et sécuritaires de plus en plus drastiques chaque année.
La tâche est ardue, associés dans la « LA COPA INTER-PYRENEES » avec nos amis espagnols de la fédération de Navarre on espère des jours meilleurs pour vous retrouver sur les 3 pistes, peut être plus tard dans la saison 2021.
EDITION 2021: ON POSTPONEMENT ....
The rainbow of the banner illustration on our Facebook page was not enough to ward off fate!
The circumstances force us for the second consecutive year to postpone the edition of the 3 tracks scheduled for April 2021.
With the regular presence of 15 nations, with the usual organizational and financial constraints, the increasingly drastic health and safety constraints accumulate each year.
The task is difficult, partners in the "LA COPA INTER-PYRENEES" with our Spanish friends from the Navarre federation we hope for better days to find you on the 3 tracks, maybe later in the 2021 season.
EDICIÓN 2021: SOBRE EL APLAZAMIENTO …
¡El arcoíris de la ilustración del banner en nuestra página de Facebook no fue suficiente para evitar el destino!
Las circunstancias nos obligan por segundo año consecutivo a posponer la edición de los 3 circuitos prevista para abril de 2021.
Con la presencia regular de 15 países, con las limitaciones organizativas y financieras habituales, las limitaciones de salud y seguridad cada vez más drásticas se acumulan cada año.
La tarea es difícil, socios en la "LA COPA INTER-PYRENEES" con nuestros amigos españoles de la federación navarra esperamos mejores días para encontrarlos en las 3 pistas, tal vez más adelante en la temporada 2021.